Luxury properties for rent in Marrakech
Are you looking for the perfect holiday rental in Marrakech? You have come to the right place! We offer an exceptional selection of holiday properties to rent in Marrakech to ensure you have an unforgettable stay. Immerse yourself in Moroccan culture and discover all that this magical city has to offer.
View all properties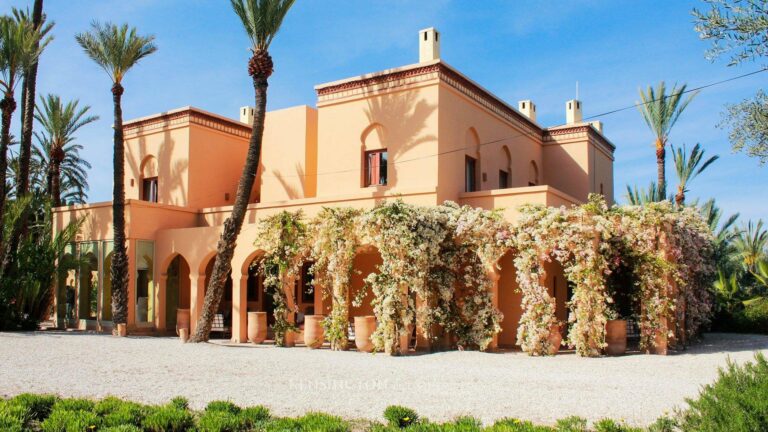 Properties for sale in Morocco

Search Kensington's catalogue of luxury Moroccan properties...
Why choose Marrakech for your holiday?
Marrakech is a must-see destination for anyone wishing to discover Morocco. In addition to its rich cultural and architectural heritage, Marrakech offers a multitude of activities and experiences for all tastes. Here are some reasons why you should choose Marrakech for your next holiday:
History and culture Marrakech: Marrakech is a thousand-year-old city full of historical monuments, palaces and sumptuous gardens, such as the Bahia Palace, the El Badii Palace, or the Menara Gardens.
Markets and crafts The famous souk of Marrakech is a must for all those who wish to discover the wealth of Moroccan crafts. You will find carpets, pottery, jewellery and many other treasures to take home.
Gastronomy Moroccan cuisine is renowned for its spicy flavours and generous dishes. Don't miss the tajine, couscous or Moroccan pastries during your stay in Marrakech.
Nature and landscape Marrakech: Marrakech is surrounded by mountains and breathtaking natural landscapes, such as the High Atlas, the Agafay desert or the Ourika valley.
Renting a holiday property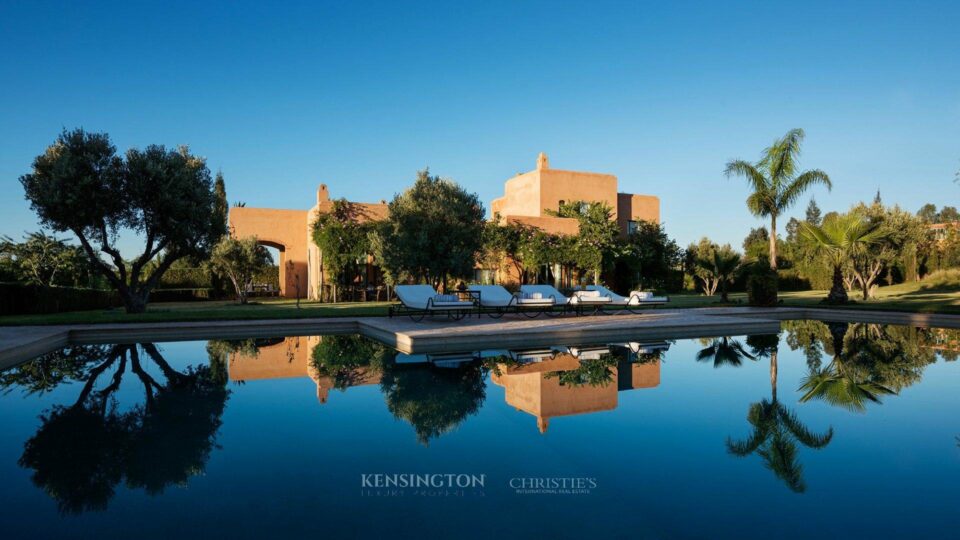 Villa rental Tiga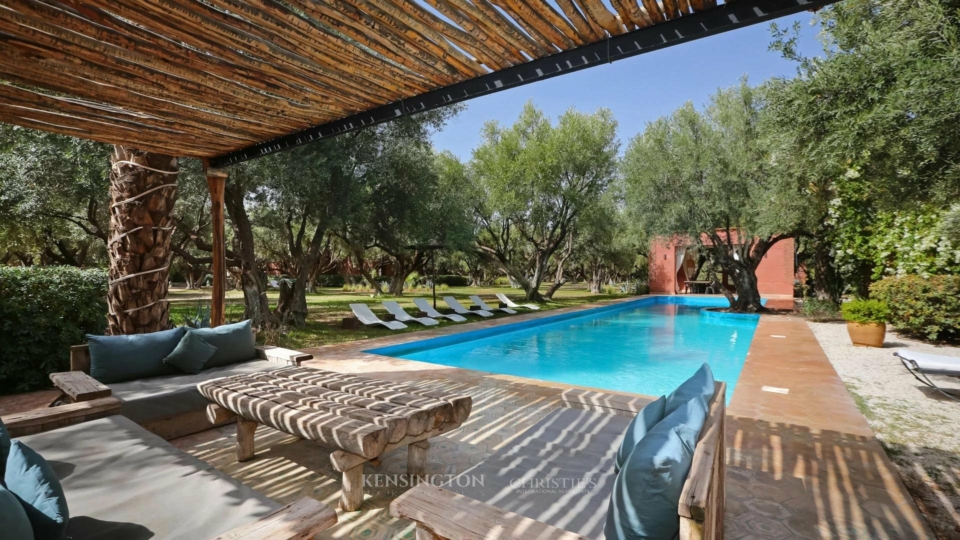 Villa rental Fedia
Our holiday properties in Marrakech: a varied offer for all tastes
We offer a wide range of holiday properties to rent in Marrakech to suit all tastes and budgets. Whether you are looking for a luxurious villa with swimming pool, a traditional riad in the heart of the medina or a modern and comfortable flat, you will find what you are looking for among our selection.
Luxury Villas
Enjoy an exceptional stay in one of our luxury villas in Marrakech. Spacious and equipped with all modern conveniences, they guarantee you a tailor-made experience.
Private swimming pool, landscaped garden, terraces with panoramic view, house staff... Everything is planned to offer you the greatest comfort and allow you to relax in complete serenity.
Traditional Riads
Soak up Moroccan culture by staying in a traditional riad in the heart of the medina of Marrakech. These typical houses feature a central patio surrounded by bedrooms and living spaces.
Each riad is unique and carefully decorated, combining tradition and modernity for an authentic and peaceful stay. Enjoy the calm and freshness of the patios, rooftop terraces and fountains to recharge your batteries after a day of discovery.
Modern and comfortable flats
If you prefer more modern, self-catering accommodation, our holiday flats in Marrakech are the ideal choice. Well-equipped and tastefully decorated, they offer all the comforts you need for a memorable stay.
Choose from flats in lively areas, close to tourist attractions or in quiet residential areas to relax after a busy day.
Renting a holiday property
Services included in our holiday properties in Marrakech
To make your stay in Marrakech unforgettable, our holiday rental properties include a range of luxury services designed to make your life easier and your stay more enjoyable.
Personalized assistance Our team is at your disposal to help you organize your stay in Marrakech, to advise you on activities and visits not to be missed, and to answer all your questions.
Cleaning and maintenance All our properties are carefully maintained and have a regular cleaning service to ensure your stay is as comfortable as possible.
Household linen Bed linen and towels are provided in all our holiday properties, so you don't have to worry about anything.
Wi-Fi connection Stay connected and share your best holiday photos with the free Wi-Fi connection available in all our properties.
Renting a holiday property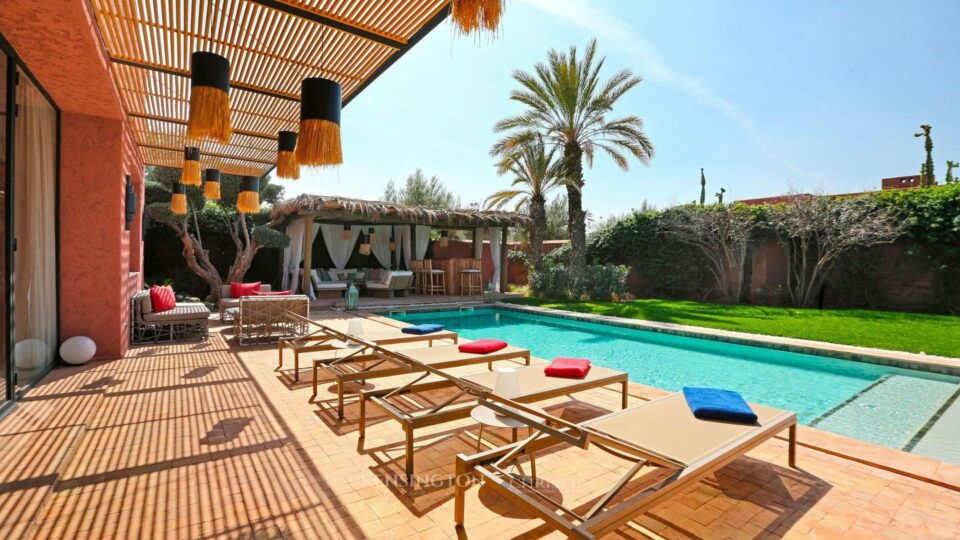 Rental Villa Keva
Book your holiday property in Marrakech now
Don't wait any longer to discover Marrakech and its treasures! Book your ideal holiday property now on our website and enjoy a high quality stay in this fascinating city.
Browse our selection of villas, riads and luxury flats to find the holiday rental in Marrakech that best suits your desires and your budget.
Contact us if you need help or advice in choosing the right property for you. Our team will be happy to assist you in your search.
Book with ease through our secure and transparent online booking system. Once your booking is confirmed, you will receive all the information you need to prepare your stay in Marrakech.
Renting a holiday property
Make the most of your holiday in Marrakech...
Guided tours of the medina and historical monuments
Immerse yourself in the history and culture of Marrakech by visiting its main monuments and historical sites, such as the Koutoubia, the Saadian Tombs, or the Bahia Palace.
Our local guides will help you discover the secrets and anecdotes of these iconic places, for a tailor-made experience.
Walk in the Heart of the Souks of Marrakech
The souks of Marrakech are an essential part of your holiday and will offer you a unique and unforgettable experience. A real explosion of colours, with a friendly atmosphere, you will discover during your visit craftsmen of various universes with authentic know-how.
Overflowing with artisanal treasures, carpets, lamps, babouches, spices... You will leave with souvenirs of Morocco in your luggage!
Moroccan cooking workshops and courses
Take part in a Moroccan cooking workshop to learn how to prepare delicious traditional dishes such as tajine, couscous, or pastillas.
Head to the local market to pick out the best ingredients and spices before getting down to business in a friendly atmosphere.
Dromedary rides and desert discovery
Discover the breathtaking landscapes of the Agafay desert on camelback, for a unique and exotic experience.
Enjoy a spectacular sunset over the sand dunes before enjoying a traditional dinner under the stars.
Excursions in the Atlas Mountains and the Ourika Valley
Explore the majestic High Atlas Mountains on a 4x4 excursion or guided hike. Take in the spectacular scenery and Berber villages nestled on the mountainsides.
The Ourika Valley, with its waterfalls and lush gardens, is a perfect destination for a relaxing day in the middle of nature.
How to book your holiday property in Marrakech?
Search: Use our search engine to find the ideal holiday property in Marrakech, according to your criteria (number of rooms, facilities, budget, etc.).
Book with ease: Once you have made your choice, book your holiday property in just a few clicks, in complete security and with the guarantee of a customer service that listens to you.
The advantages of renting a holiday property in Marrakech
Privacy and comfort: By renting a holiday property, you get a private space for you and your family, away from the hustle and bustle of hotels. You'll have all the comforts you need to enjoy your holiday to the full.
Flexibility: A holiday rental offers you greater flexibility in terms of hours and services. You can plan your stay as you wish, without the constraints of meal times or hotel activities.
Savings : Renting a holiday property in Marrakech is often cheaper than staying in a hotel, especially if you are travelling in a group or with your family. Plus, you'll have the option of cooking in your rental, saving money and eating bespoke meals.
Our advice for a successful stay in Marrakech
Plan your visits: Marrakech is full of tourist sites and activities to discover. To make the most of your stay, remember to plan your visits in advance and check the opening hours of the main monuments.
Respect local customs: Morocco is a country with many traditions and customs. To avoid misunderstandings and ensure a pleasant stay, it is important to learn about and respect local customs. For example, remember to dress appropriately when visiting religious sites or traditional neighbourhoods.
Bargain in the souks: Marrakech's souks are famous for their colourful stalls and diverse goods. Don't hesitate to wander through these labyrinths of alleys and negotiate prices with the traders. Negotiation is an integral part of Moroccan culture and will allow you to make good deals.
Security and assistance during your stay
We are committed to providing you with a safe and secure stay in our holiday properties in Marrakech. Our team is available 7 days a week to answer your questions and assist you if you need help. In addition, we have selected properties that meet strict quality and safety criteria to ensure that you can trust your accommodation.
Call us here
Our friendly, multilingual team is available to talk to you.
+212 5 24 42 22 29
Find us here
Kensington Morocco
Imm El Pacha
67 Rue Ibn Khaldoun, Marrakech 40000, Morocco